click on the banner to return to the home page
Oxymoron
What is it?
---
Examples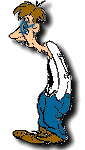 He tried to act naturally, but in these plastic glasses and designer jeans he looked seriously funny.
She went to the restaurant where they offered a weekly special on fresh frozen, jumbo shrimp.

Answer
An intentionally non-parallel structure, frequently containing incongruous or contradictory terms.