click on the banner to return to the home page
Irony
What is it?
---
Examples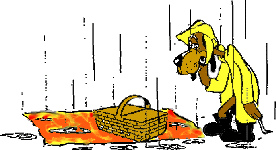 Watching it rain, he said, "Lovely day for a picnic."
The smashed hulk of metal, twisted and shaped into awkward, unlikely angles, lay on its side; one rear wheel spun slowly. Ruefully, the man said to his companion, "I'll bet I finally got rid of that squeak in the dashboard."
Answer
Saying one thing but meaning just the opposite.