click on the banner to return to the home page
LESSON 4

Handwriting Pages

---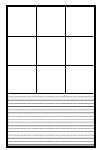 Here is something to download. This is an example of a handwriting book page. The cubes above are for drawing pictures of the words, and the lines below are for writing the letters.
If you want to print a few copies just click on the thumbnail to view the whole image. This will take you to another window. You can save the graphic from there.
Macintosh users: Hold down your mouse button on the full-sized image and then Save this image as...
PC users: Right click and Save the image off the page.
Or once you get to the full-sized image, print the page.
Make sure your page setup is set to landscape.
Now those word banks...

---